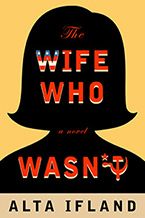 The Wife WHo Wasn't
New Europe Books
An exhilaratingly comical, crosscultural debut novel, The Wife Who Wasn't brings together an eccentric community from the hills of Santa Barbara, California, and a family of Russians from Chisinau, the capital of Moldova. It starts in the late 1990s, after the fall of communism, and has at its center the mail-order marriage between a California man (Sammy) and a Russian woman (Tania) who comes to America, which engenders a series of hilarious cultural misunderstandings. Click here to read more.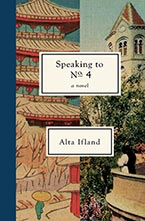 Speaking to No. 4
New Europe Books
From America to France and Eastern Europe to Japan, this quest for a woman who has disappeared is a psychological mystery and an architectural odyssey in one.
Where is Alma? A future husband--No. 4--is desperately seeking his fiancée, who has disappeared. To locate her, he is interviewing her three former husbands, her sister, and ex sister-in-law. Could she be hiding in a French monastery? A Japanese shukubo (temple lodging)? Or maybe she is the victim of a belief in a Balkan creation myth?
Written in six voices that come together in a seamless and often comical narrative, Speaking to No. 4 is both a psychological mystery and a meditation on our construction of space. As husband No. 3, the Architect, says to husband-to-be No. 4, "Think of Japanese space as a novel in which the main character is absent."
Click here to read more.
info@altaifland.com
Copyright © 2007-2022 Alta Ifland