The Snailís Song
Spuyten Duyvil Press
This Snail's Song is a refined encapsulation of all the beauty and sadness in the world; a true tour-de-force of imagination and sincerity.
—Alex Epstein, author of Blue Has No South and Lunar Savings Time
.
Click here to read more.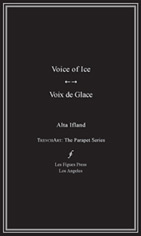 Voice of Ice
Les Figues Press
In transplanting her painterly European sensibility into an American poetic context, Alta Ifland creates and redreams the hauntingly surreal emotional landscapes of dislocation, desolate distances, and Redonesque disjuncture from which she shapes these ever-shifting, mad-and-mythic excursions-in voices angry, awed, childlike, sardonic, she startles and disturbs, charms and exalts.
--Wanda Coleman

Click here to read more.
info@altaifland.com
Copyright © 2007-2020 Alta Ifland